australia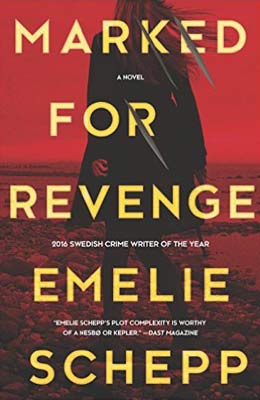 Buy at:
Marked for revenge
When a Thai girl overdoses smuggling drugs, the trail points to Danillo, the one criminal MMA-trained public prosecutor Jana Berzelius most wants to destroy. Eager to erase any evidence of her sordid childhood, Berzelius must secretly hunt down this deadly nemesis with whom she shares a horrific past.
Meanwhile, the police are zeroing in on the elusive head of the long-entrenched Swedish narcotics trade, who goes by the name The Old Man. No one has ever encountered this diabolical mastermind in person; he is like a shadow, but a shadow who commands extreme respect. Who is this overarching drug lord? Berzelius craves to know his identity, even as she clandestinely tracks Danillo, who has threatened to out her for who she really is. She knows she must kill him first, before he can reveal her secrets. If she fails, she will lose everything.
As she prepares for the fight of her life, Berzelius discovers an even more explosive and insidious betrayal—one that entangles her inextricably in the whole sordid network of crime.
Reviews
"Swedish author Schepp`s outstanding second novel"
Publishers Weekly Starred Review

Articles
---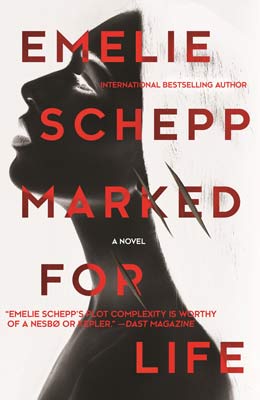 Buy at:
Marked for life
When a high-ranking head of the migration board is found shot to death in his living room, there is no shortage of suspects, including his wife. But no one expects to find mysterious, child-size fingerprints in this childless home.
Public prosecutor Jana Berzelius steps in to lead the investigation. Young and brilliant but emotionally cold, Berzelius, like her famous prosecutor father, won't be swayed by the hysterical widow or intimidated by the threatening letters the victim had tried to hide. She is steely, aloof, impenetrable. That is, until the boy…
A few days later on a nearby deserted shoreline, the body of a derelict preteen is discovered, and with him, the murder weapon that killed the official. Berzelius finds herself drawn more deeply into the case when, as she attends the boy's autopsy, she recognizes something familiar on his small, scarred, drug-riddled body. Cut deep into his flesh are initials that scream child trafficking and trigger in her a flash of memory from her own dark childhood. Her connection to this boy has been carved with deliberation and malice that penetrate to her very core.
Now, to protect her own horrific but hidden past, she must find the real suspect behind these murders before the police do.
Reviews
"Move over, Jo Nesbo"
Fort Worth Star-Telegram
Articles